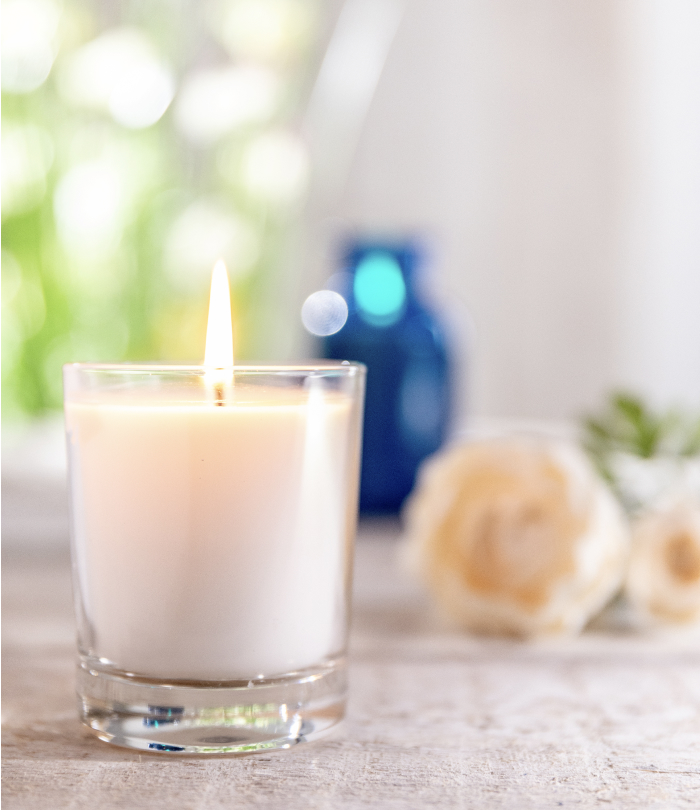 Your candle
A deluxe candle, the fruit of French expertise
Every day, we work with small and large brands as we pursue our mission: to create the very best scented candles.
The need for quality
What is a perfect candle? A candle that burns evenly, stays true to perfumes notes and does nothing to alter the wax, all without burning, sweating or smoking. To achieve this degree of perfection, our laboratory tests a wide range of wax mixtures, using a different mixture for each fragrance. The mixtures usually combine eight waxes for one candle in different proportions that vary with the perfume: each new project is a brand new adventure!
Perfume: the soul of your candle
A candle's fragrance creates a special moment that imbues the atmosphere. The secret of these unique olfactory experiences? The extreme sensitivity of our noses and painstaking work of our candle-makers. The quality of a candle, whether lit and unlit, lies in its fragrance. La Manufacture takes a meticulous approach to formulating your scented candle with the goal of intensifying your fragrance's sillage.
High-quality raw materials for high-quality candles
Our experts put their in-depth knowledge of raw materials to work in selecting premium natural vegetable-based and paraffin waxes and cotton wicks for optimal combustion and a brightly burning flame. Our constant goal is to create candles that guarantee the best possible olfactory result. Which is why our experts apply the highest standards and an unwavering commitment to quality to the process of selecting our raw materials.*
*Our raw materials comply with REACH regulations.
Production secrets
Carefully selected raw materials, a highly detailed olfactory assessment, a panoply of tests and closely controlled production.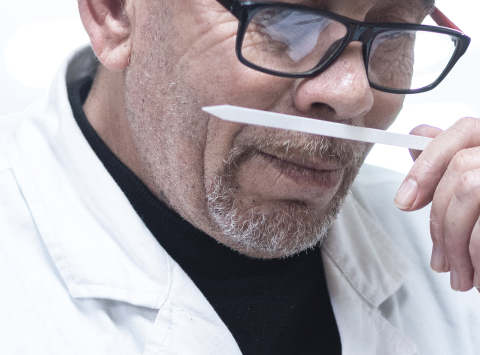 Perfume evaluators
At La Manufacture, perfume is the cornerstone of what we do. Our noses are skilled fragrance experts. They can offer you a wide choice of fragrances from prestigious brands. You've already chosen a perfume? We formulate the composition using your perfume, which will give substance to your candle.
THE research & development laboratory
Once the perfume has been chosen, the laboratory's task is to optimize the olfactory qualities while complying with all candle safety standards. It also runs specific tests at the client's request.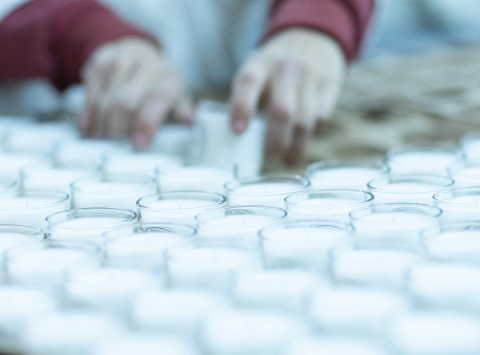 Production
The production process has four stages:

1. Weighing the formula's ingredients.
Wax and perfume are weighed to the nearest gram and dyes to the nearest milligram. For certain materials, an error of a single gram could have a damaging effect on how well the candle burns.
2. Melting.
The waxes are melted in special melters designed to resist strictly controlled temperatures.
3. Moulding.
The process for moulding candles takes place just after the perfume is incorporated into the mixture of melted waxes. Once again, temperatures are carefully controlled throughout the process.
4. Cooling.
The cooling process is managed according to precise temperature curves.
Our plant-based candles
La Manufacture candles are usually made of paraffin wax, which offers many benefits. But we can also use plant-based waxes. They can be mixed with paraffin waxes or used on their own.
The art of using a candle
It is always useful to list the precautions you need to follow to guarantee the safety, quality and durability of your scented candle:
leave the candle to burn for at least an hour when first using it so the wicks are infused with paraffin and burn properly. This creates an even pool of liquid wax and ensures that the wax does not get hollowed out afterwards
a wisp of smoke may appear when you light the candle
we recommend that you leave the candle to burn for 3 or 4 hours at a time
reposition the wicks after blowing out the candle
regularly cut back the wicks with a wick trimmer (the ideal length is 3 to 5 millimetres) so the candle doesn't smoke
préférer l'utilisation d'un éteignoir pour bougie
use a candle snuffer
never leave a lit candle untended
never place a lit candle in a draught or on a glass, wooden or marble surface
never move a lit candle or unlit candle that is still hot
and, of course, keep your candle out of reach of children.